Wear That Celebrity Wedding Gown At The Fraction Of The Price Part 2!
You have probably seen many celebrity brides wearing a beautiful wedding gown, and you think to yourself "Aiya she looks so nice but only because the wedding gown is from some expensive brand. I can't possibly afford it!"
Well you have those thoughts, be quick to banish them! We are back with the second instalment of similar celebrity wedding gowns you can wear at the fraction of the real price tags! Previously, we shared about how you can don similar celebrity wedding gowns at the fraction of the price and our brides-to-be have shared how much they love it!
This time round, we are letting you to continue indulging in such a sweet dream come true by sharing more of such similar wedding gowns from Labelle Couture!
#1 Celebrity Bride & Her Celebrity Wedding Gown: Kim Kardashian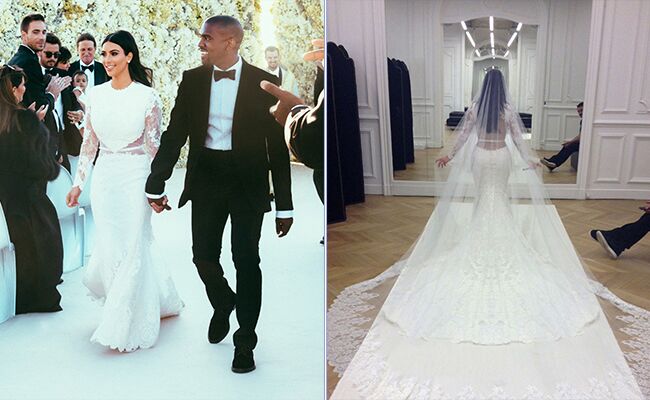 Credits : Cosmopolitan
Kim Kardashian – the fashion icon who loves flaunting her bootylicious hour-glass figure by wearing loud and daring clothes (not to mention fitting clothes). It was no surprise that she chose a wedding gown that outlined her curves! The only shocking bit is how she opt for a wedding gown with long sleeves, which is something we rarely see with Kim Kardashian. Nonetheless, she looks really sophisticated, don't you agree?
Wearing a mermaid-style wedding gown with long wedding gown train and bridal veil, it is somewhat a mixture of sexiness and elegance. You would probably agree she maintained her classiness well in this wedding gown!
Our wedding gown design that looks similar to the celebrity wedding gown:
Similarity index: 45%
If you want the additional long wedding gown train, you may always consider customising it by opting for our made-to-measure section! However, one thing you need to be mindful of such long wedding gown trains is that it may not always be appropriate for your wedding event or venue!
#2 Celebrity Bride & Her Celebrity Wedding Gown: Keira Knightley
Credits : EOnline
Keira Knightley has always been known as the actress with a bold sense of style and don't walk the common road. Therefore, seeing her in a short frock as her wedding gown was no surprise! She definitely rocked the look with a pair of slightly elevated flats and a casual cream blazer. The look is complete with a pair of sunglasses and viola, she looks like a fashion icon who is ready to take on the world!
We love how Keira Knightley has cleverly inject different look with her powder pink Chanel Houte Couture dress. She even included a long-sleeved shirt tucked under her dress, the sheer fabric was barely noticeable against her skin.
Our wedding gown design that looks similar:
Similarity index: 50%
Most short pretty short wedding gowns are perfect for a casual wedding party or for your solemnisation session! If you have a pair of long legs like Keira Knightley, then it is a great opportunity to flaunt them!
One thing to note is the height difference between you and your groom! If you are at least 15cm apart, then it is best to not select a short wedding dress. Otherwise you might end up looking like a child beside your groom. If it is the other way round (in which you are the taller one), then you might end up looking a little like giant next to your groom.
And honestly, that doesn't sound like a plan…
#3 Celebrity Bride & Her Celebrity Wedding Gown: Cecilia Liu
Credits : Asianpopnews
When the news announced on the relationship of Cecilia Liu and Nicky Wu, the internet almost went crazy. Especially fans of their famous drama, Bu Bu Jing Xing! Now that they have tied the knot, it is no surprise that Cecilia looked liked an angel on her wedding.
The dainty details on sleeves of her wedding gown truly bodes well with her ladylikeness. The minimal lace work on the sleeves sure brings out the fairness of her porcelain skin
Our wedding gown design that looks similar:
Similarity index: 80%
With the increasing trend of off-shoulder wedding gowns, more and more brides are opting such design to preserve classiness but yet look beautiful at the same time! If you think you have sexy shoulders and alluring collarbones to bare, then off-shoulder wedding gowns are your best bet! Play around with delicate lace and tulle to pull off that graceful look!
#4 Celebrity Bride & Her Celebrity Wedding Gown: Ruby Lin
Credits : Weekender Singapore
Ruby Lin has always been most men's eye candy and even though she is close to 40, she looks nothing like her age! When she announced her relationship and marriage to Wallace Huo, it seems like her fans were incredibly happy for her.
She wore a few wedding gown designs but the one that stood out the most was her long sleeved wedding gown. The iconic part of her wedding gown is the lace work against the mesh top that resulted in an illusion of a deep V neckline. It would seem wrong to describe the wedding gown as sexy since she looked like a fairy in it.
Our wedding gown design that looks similar:
Similarity index: 75%
We love how Ruby Lin looks exceptionally beautiful on her wedding day, well, all brides do anyway! She is yet another living epitome who perfects even long-sleeved wedding gowns, which are not commonly worn by brides. With lace designs over your bust area not only help to create more volume but also provides a little teaser peekaboo on your cleavage!
#5 Celebrity Bride & Her Celebrity Wedding Gown: Michelle Chen
Credits : A Koala's Playground
With the girl next door appearance, it was the right choice for Michelle Chen to choose a wedding gown that was simple and not over the top. Opting for a wedding gown with simple off shoulder details and a slightly higher sweetheart neckline, it was a pretty conservative choice that bode well with her image.
Our wedding gown design that looks similar:
Now, who says having the same if not similar wedding gowns by top designer brands worn by celebrities requires deep pockets? We say you don't need them if you know where to find them!
Make an appointment with us here now if you want to know more about our bridal services!